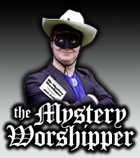 See our archive of reports
Famous/infamous
UK & Ireland
USA
Oz & NZ
Canada
Elsewhere

If you would like to become a Mystery Worshipper, start here.
2272: Holy Cross, Woodchurch, Wirral, Merseyside, England

Read this report | Other comments

1 January 2016

What makes a church friendly or welcoming is a weird thing, often written between the lines, like much in life.

When I started going to Holy Cross, Woodchurch, I was pretty tired from a couple of years in charismatic worship. I remember somebody being slightly amused at my being at a place like Holy Cross with all its boundaries and limits. But the fact was, I could always share absolutely anything about my relationship with God with Anne and the clergy team there. I felt free for the first time in ages.

The word "freedom" is used quite ... er ... freely in modern churches. But often all you have to do is go off message to leave yourself wondering how free you actually are.

At Holy Cross, I had space to be myself again: to explore again what was happening with myself and God in a very difficult time, to experience people being Christ-like to me when I wanted to fall apart.

I am still occasionally hearing the effect I have had on people who have read the two books I have had published the past couple of years. The fact that these books were written at all is miracle enough, given the state I was in before writing them. But the depth of what I was able to scribble in those pages (particularly in the second book) owes a great deal to the Jesus I found between the lines at Holy Cross.

Mr John Hulme



We rely on voluntary donations to stay online. If you're a regular visitor to Ship of Fools, please consider supporting us.



Easter 2010

From Yunnan in China to Louisville in Kentucky, we report on Easter services, 2010. Read here.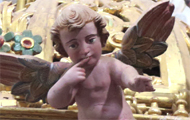 The Mystery Pilgrim

One of our most seasoned reporters makes the Camino pilgrimage to Santiago de Compostela in Spain. Read here.