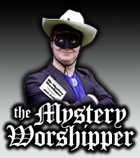 See our archive of reports
Famous/infamous
UK & Ireland
USA
Oz & NZ
Canada
Elsewhere

If you would like to become a Mystery Worshipper, start here.
224: Dunwoody Baptist, Atlanta, Georgia, USA

Read this report | Other comments

March 12, 2016

As I grew up at Dunwoody Baptist Church, I need to correct that no, this building was never Avon Cosmetics. That is nearby, two miles away, and is now used by First Baptist Church of Atlanta, which moved from downtown Atlanta.

It pains me that the histories of these two congregations have been confused. Dunwoody Baptist was purpose built as a church in a modernist style.

Revd Monte Waddill



We rely on voluntary donations to stay online. If you're a regular visitor to Ship of Fools, please consider supporting us.



Easter 2010

From Yunnan in China to Louisville in Kentucky, we report on Easter services, 2010. Read here.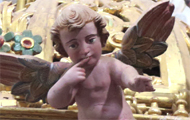 The Mystery Pilgrim

One of our most seasoned reporters makes the Camino pilgrimage to Santiago de Compostela in Spain. Read here.