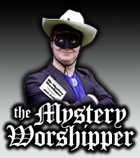 See our archive of reports
Famous/infamous
UK & Ireland
USA
Oz & NZ
Canada
Elsewhere

If you would like to become a Mystery Worshipper, start here.
2228: Restructured Church of the Holy Spirit: Purity, Love and Light, East Los Angeles, California, USA

Read this report | Other comments

October 7, 2014

The report mentions that the Iglesia Reestructurada del Espiritu Santo is comprised of "Poor working class people."

In fact, the group is composed of teachers, professors, engineers, pilots, architects, attorneys, doctors, entrepreneurs, and business owners, just to name some of the professions.

The church's teachings encourage members not to flaunt who they are or what they have, to be as humble as possible everywhere one walks.

Jesse Ornelas

Amanda B. Reckondwythe replies:

I based my observation primarily on research found here.



We rely on voluntary donations to stay online. If you're a regular visitor to Ship of Fools, please consider supporting us.



Easter 2010

From Yunnan in China to Louisville in Kentucky, we report on Easter services, 2010. Read here.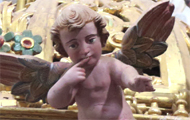 The Mystery Pilgrim

One of our most seasoned reporters makes the Camino pilgrimage to Santiago de Compostela in Spain. Read here.