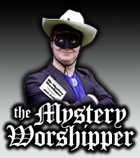 See our archive of reports
Famous/infamous
UK & Ireland
USA
Oz & NZ
Canada
Elsewhere

If you would like to become a Mystery Worshipper, start here.
2097: St Stephen's, Dalmuir, Clydebank, Scotland

Read this report | Other comments

3 April 2015

Re sculpture behind the altar - the clue is in the name of the church - St Stephen's.

St Stephen, stoned to death, was one of the first martyrs. The two men in the frame are indeed stoning the praying saint, with others bending down to collect stones. It is a poignant illustration of what was then, and still is today, a barbaric practice.

I regret your visitor found the congregation unattractive, but I am sure that if he balanced that with the appalling behaviour of his child, he would come to realise the attendees were simply shy and in fact rather tolerant.

In Scotland, we don't tend to offer refreshments after a service, but if there are any, then an announcement is made with invitation to visitors.

B. Monaga



We rely on voluntary donations to stay online. If you're a regular visitor to Ship of Fools, please consider supporting us.



Easter 2010

From Yunnan in China to Louisville in Kentucky, we report on Easter services, 2010. Read here.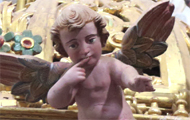 The Mystery Pilgrim

One of our most seasoned reporters makes the Camino pilgrimage to Santiago de Compostela in Spain. Read here.