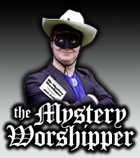 See our archive of reports
Famous/infamous
UK & Ireland
USA
Oz & NZ
Canada
Elsewhere

If you would like to become a Mystery Worshipper, start here.
2092: People's Church, Newtownabbey, County Antrim, Northern Ireland

Read this report | Other comments

8 Novembert 2016

Having read your assessment of the Peoples Church, I am writing to let you know of my disdain for your review.

Please bear in mind that the church had only recently moved to the warehouse prior to your visit. I honestly fail to see what relevance the cost of the carpet had to do with your experience of the service. Man looks on the outward appearance; God looks on the heart.

Maybe the appeals weren't to your liking. That's fair enough, each to their own. But People's Church is blessed by God himself. The worship is anointed, as is the preaching of God's word.

Mr M Moreland



We rely on voluntary donations to stay online. If you're a regular visitor to Ship of Fools, please consider supporting us.



Easter 2010

From Yunnan in China to Louisville in Kentucky, we report on Easter services, 2010. Read here.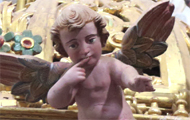 The Mystery Pilgrim

One of our most seasoned reporters makes the Camino pilgrimage to Santiago de Compostela in Spain. Read here.