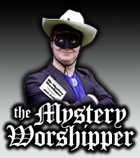 See our archive of reports
Famous/infamous
UK & Ireland
USA
Oz & NZ
Canada
Elsewhere

If you would like to become a Mystery Worshipper, start here.
2052: Southover Church, Lewes, East Sussex, England

Read this report | Other comments

5 June 2014

I finally discovered this report and really just wanted to say thank you to the Mystery Worshipper, who was so kind to my beloved church. I'm glad we made you feel welcome.

I would, however, be delighted if you would pay us another visit, especially to the evening 6.30 service. We've recently changed the pews (and I agree, they weren't the most comfortable) to chairs. The 6.30 also has a very different feel from the 10.00, formerly the 10.30.

In fact, we now have four services per week: 8.00 Prayer Book communion, 10.00 (which is the equivalent to the service reviewed), 11.15 contemporary service, and another contemporary service at 6.30. Since we are about to begin a large project in which we will become one with two other churches in Lewes, it would be nice to see where we stand.

Again, thank you so much for your kind comments.

Emma



We rely on voluntary donations to stay online. If you're a regular visitor to Ship of Fools, please consider supporting us.



Easter 2010

From Yunnan in China to Louisville in Kentucky, we report on Easter services, 2010. Read here.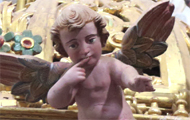 The Mystery Pilgrim

One of our most seasoned reporters makes the Camino pilgrimage to Santiago de Compostela in Spain. Read here.