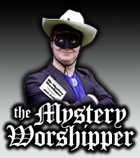 See our archive of reports
Famous/infamous
UK & Ireland
USA
Oz & NZ
Canada
Elsewhere

If you would like to become a Mystery Worshipper, start here.
1973: Holy Superet Light, Los Angeles, California, USA

Read this report | Other comments

January 8, 2015

Comparative religious studies is neccessary, as it helps for choice making and in curbing religious disharmony among human races.

A single visit to the Superet Church is not enough to draw conclusions about the Superet doctrine.

I recommend your group reads books written by Mother Trust (the founder) to comprehend the doctrine fully and to gain more insight.

God bless you.

Mr Solomon Akpan

Amanda B. Reckondwythe replies:

I don't deny that the doctrine includes some rather interesting facets.

But "Behold, I have set before you an open door" (Revelation 3:8). What one sees through that door influences whether or not one is likely to enter.

What I saw through the door of the Superet Light Church the morning of my visit is not likely to cause me to want to enter a second time.

June 16, 2015

I have to say you sound pretty narrow-minded. The benches are "uncomfortable" on purpose. You don't go to church to sleep, do you?

They deal with "vibration" and you need to get in tune. There's no greeting or talking because it breaks the vibration of prayer.

Church isn't social club but they do have social time after service/lecture.

The people are very nice, normal, and are there for prayer, fellowship, and to learn.

If you're into big personalities and circus-tent hoopla, then humble and peaceful isn't for you.

Richard Arrambide

Amanda B. Reckondwythe replies:

Neither is Josephine De Croix Trust.



We rely on voluntary donations to stay online. If you're a regular visitor to Ship of Fools, please consider supporting us.



Easter 2010

From Yunnan in China to Louisville in Kentucky, we report on Easter services, 2010. Read here.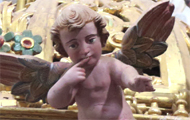 The Mystery Pilgrim

One of our most seasoned reporters makes the Camino pilgrimage to Santiago de Compostela in Spain. Read here.