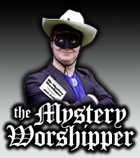 See our archive of reports
Famous/infamous
UK & Ireland
USA
Oz & NZ
Canada
Elsewhere

If you would like to become a Mystery Worshipper, start here.
1921: All Saints Margaret Street, London
Read this report | Other comments
6 April 2010

Thank you for your wonderful report on All Saints Margaret Street, which was accurate in almost all respects. One small point, however: whilst the congregation is not exactly bursting with teenagers, there is a sizeable number of people under the age of 40, including a handful of university students and small children. I do not dispute that the congregation is mostly middle aged, but to here described as "almost entirely in late middle age or elderly" amused me, as it is only true if we define late middle age as beginning at 30. I suspect that Tenebrae attracted fewer youngish people than did the main services for the Triduum.



We rely on voluntary donations to stay online. If you're a regular visitor to Ship of Fools, please consider supporting us.



Easter 2010

From Yunnan in China to Louisville in Kentucky, we report on Easter services, 2010. Read here.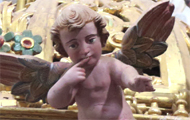 The Mystery Pilgrim

One of our most seasoned reporters makes the Camino pilgrimage to Santiago de Compostela in Spain. Read here.