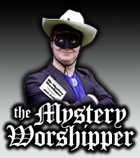 See our archive of reports
Famous/infamous
UK & Ireland
USA
Oz & NZ
Canada
Elsewhere

If you would like to become a Mystery Worshipper, start here.
1775: Westminster Abbey, London

Read this report | Other comments

2 April 2016

Did the Abbey ever respond to this report?

It is a terrible indictment of the "careerist" Church of England, and borders on the blasphemous, if the starting words were, truly "In the name of the Father," etc. I suspect Our Lord abandoned Westminster Abbey centuries ago.

This made for appalling reading. Probably much too late now, though.

Mr Mark Dye

[Editor's note: To our knowledge the Abbey has not responded.]

Cool Dude replies:

I have made subsequent visits to services at Westminster Abbey since this report was written in 2009 and I notice they have now taken several steps to improve their welcome to worshippers. Whether my report had any impact - or was even read - at the Abbey I cannot say.

The Abbey clearly has generated huge tourist demand, and in spite of a large historic endowment now relies on tourists income - the tourist admission charges outside service times are in 2016 a stonking £20 per adult per visit (£17 for students).

The point where such high pressure tourism meets reverent public worship is always going to be tricky. But St Paul's Cathedral and many other busy sites do manage it well - and someone at the Abbey could still benefit from looking carefully at such places and how they do it.

Whatever your view of Westminster Abbey, it is a flagship ambassador building of the Christian church in a major world city. The Abbey should not forget that.



We rely on voluntary donations to stay online. If you're a regular visitor to Ship of Fools, please consider supporting us.



Easter 2010

From Yunnan in China to Louisville in Kentucky, we report on Easter services, 2010. Read here.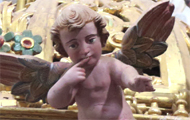 The Mystery Pilgrim

One of our most seasoned reporters makes the Camino pilgrimage to Santiago de Compostela in Spain. Read here.