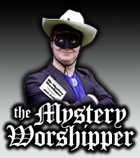 See our archive of reports
Famous/infamous
UK & Ireland
USA
Oz & NZ
Canada
Elsewhere

If you would like to become a Mystery Worshipper, start here.
1758: St Peter and St Sigfrid, Stockholm, Sweden

Read this report | Other comments

27 August 2012

I've just read the review of St Peter & St Sigfrid, and notice that it's listed as "the only English-speaking church in Stockholm."
This is incorrect. It may be the only English-speaking Anglican church in Stockholm, but I know of at least three other English-speaking churches of other denominations.
Maybe you can correct your review so that visitors looking for a church in Stockholm don't get misled.
Thanks for a fun website.

Alice



We rely on voluntary donations to stay online. If you're a regular visitor to Ship of Fools, please consider supporting us.



Easter 2010

From Yunnan in China to Louisville in Kentucky, we report on Easter services, 2010. Read here.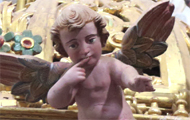 The Mystery Pilgrim

One of our most seasoned reporters makes the Camino pilgrimage to Santiago de Compostela in Spain. Read here.