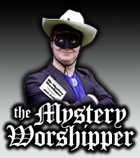 See our archive of reports
Famous/infamous
UK & Ireland
USA
Oz & NZ
Canada
Elsewhere

If you would like to become a Mystery Worshipper, start here.
1697: St Luke's, Sedona, Arizona, USA

Read this report | Other comments

10 July 2012

The name Ship of Fools may indicate that religion is not taken seriously, but rather mocked.
The Mystery Worshipper of St Luke's, Sedona, AZ, did not clearly say that she had visited the church on Good Friday, a working day for most. Only on this day of the year mainly silence is kept – including the silence of the music – in order to signify the biblical event which may make us speechless.
Should not reporting Mystery Worshippers state major facts?
Bara
Amanda B. Reckondwythe replies:
The report clearly identifies the date and time of the service. "Good Friday" is mentioned. Miss Amanda knows that silence is kept on Good Friday, and nothing in the report was critical or mocking of the silence. In fact, Miss Amanda described the service as "stately and glorious."
As for it being a working day, the rector could have scheduled the service for any time he wished if he expected a larger congregation than three little old ladies.



We rely on voluntary donations to stay online. If you're a regular visitor to Ship of Fools, please consider supporting us.



Easter 2010

From Yunnan in China to Louisville in Kentucky, we report on Easter services, 2010. Read here.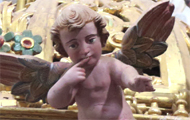 The Mystery Pilgrim

One of our most seasoned reporters makes the Camino pilgrimage to Santiago de Compostela in Spain. Read here.