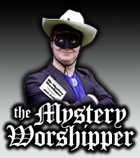 See our archive of reports
Famous/infamous
UK & Ireland
USA
Oz & NZ
Canada
Elsewhere

If you would like to become a Mystery Worshipper, start here.
1616: Church of the Resurrection, Brewster, Massachusetts, USA
Read this report | Other comments
18 November 2008

This is an example of why these kind of sabotage reports cannot be taken seriously. A mainstream Episcopalian attends a breakaway Anglican Church and finds most things good except the people and their beliefs. The reporter's Rector even had a chance to pass judgment not on the worship (which he did not attend) but the Christian character of the parishioners, which he found to be lacking.

For a Roman Catholic to disparage the people in a Protestant Church simply because it is Protestant... or vice versa... would be seen as prejudicial and absurd.

Alonzo Pearson



We rely on voluntary donations to stay online. If you're a regular visitor to Ship of Fools, please consider supporting us.



Easter 2010

From Yunnan in China to Louisville in Kentucky, we report on Easter services, 2010. Read here.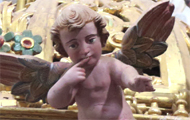 The Mystery Pilgrim

One of our most seasoned reporters makes the Camino pilgrimage to Santiago de Compostela in Spain. Read here.