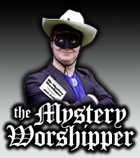 See our archive of reports
Famous/infamous
UK & Ireland
USA
Oz & NZ
Canada
Elsewhere

If you would like to become a Mystery Worshipper, start here.
1569: Mars Hill, Ballard Campus, Seattle, Washington, USA
Read this report | Other comments
22 July 2008

Please tell Wanderer if s/he'd wandered a bit more (into an area off the mail lobby called The Commons) s/he'd have found plenty of regular coffee and hot water for tea as well.

And thanks for the visit!

Nancyjean Tripp (a Mars Hill member)



We rely on voluntary donations to stay online. If you're a regular visitor to Ship of Fools, please consider supporting us.



Easter 2010

From Yunnan in China to Louisville in Kentucky, we report on Easter services, 2010. Read here.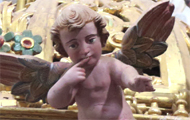 The Mystery Pilgrim

One of our most seasoned reporters makes the Camino pilgrimage to Santiago de Compostela in Spain. Read here.