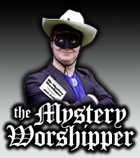 See our archive of reports
Famous/infamous
UK & Ireland
USA
Oz & NZ
Canada
Elsewhere

If you would like to become a Mystery Worshipper, start here.
1511: Methodist Central Hall, Coventry, England
Read this report | Other comments
10 February 2008

I have just read the report, "A whiter shade of green – Coventry Central Hall".

I would just point out that the main walls in the worship area are not green, but "Ivory Lace", a pale cream. However, I do admit that on first glance the place does seem to be overwhelmingly green.

The numbers at worship are usually much higher than when your Mystery Worshipper visited. We suffer from Methodist plan-making, i.e. folks read the plan to see who is preaching.

I'm glad that Lady Lyndon felt welcome and gave the church a 9.

Rev Viv Gasteen



We rely on voluntary donations to stay online. If you're a regular visitor to Ship of Fools, please consider supporting us.



Easter 2010

From Yunnan in China to Louisville in Kentucky, we report on Easter services, 2010. Read here.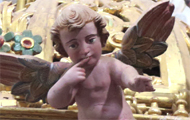 The Mystery Pilgrim

One of our most seasoned reporters makes the Camino pilgrimage to Santiago de Compostela in Spain. Read here.