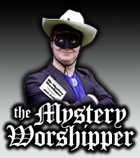 See our archive of reports
Famous/infamous
UK & Ireland
USA
Oz & NZ
Canada
Elsewhere

If you would like to become a Mystery Worshipper, start here.
1480: Panny Marie Vítíězné (Our Lady Victorious), Prague, Czech Republic
Read this report | Other comments
20 December 2007

My beau and I were recently in Prague. During my research for our trip, I read of a peculiar South American tradition which holds that the Miraculous Image of the Holy Infant of Prague was a souvenir of Our Lord's school days in the Bohemian capitol – whither he had been sent because it was the most beautiful city in the world. In this I fully concur: the place is absolutely entrancing.

We didn't attend mass at the church, but did stop by to see the Infant and the selection of lovely frocks on display from the tyke's quite extensive wardrobe, which is guarded by feral nuns. He is housed in a quite stupefyingly grand solid silver altar, but it was off to the side (liturgical south, east by the compass) and I was much surprised to note so little pilgrim activity at the shrine of one of the most revered images in the world.

I knelt down and had a pray like a good Anglo-Catholic, but the little nipper smote me: the strap of my shoulder bag was rent in twain (see attached illustration)! I retaliated by filching a rose from a flower arrangement and drying its petals. We now have an understanding.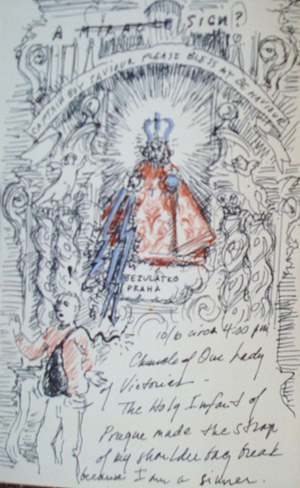 It did make me think of an old friend of mine who was reared by Polish nuns in Bayonne, NJ. These old girls totally revered the Infant and taught their young charges this prayer: "Captain Boy Saviour, Please Bless My Behaviour."

Ship of Fools is the best thing on the web – but you ought to send a Mystery Worshipper back to St Luke in the Fields (NYC) during the "season" when we have a choir and full bells and smells – your on-file report is lovely, but we're not at our best in the summertime.

Blessings

James Middleton



We rely on voluntary donations to stay online. If you're a regular visitor to Ship of Fools, please consider supporting us.



Easter 2010

From Yunnan in China to Louisville in Kentucky, we report on Easter services, 2010. Read here.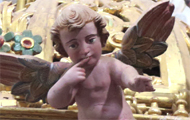 The Mystery Pilgrim

One of our most seasoned reporters makes the Camino pilgrimage to Santiago de Compostela in Spain. Read here.