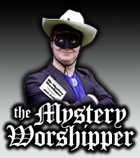 See our archive of reports
Famous/infamous
UK & Ireland
USA
Oz & NZ
Canada
Elsewhere

If you would like to become a Mystery Worshipper, start here.
1475: All Saints Catholic Newman Center, Arizona State University, Tempe, Arizona, USA

Read this report | Other comments

August 19, 2015

I am an Arizona State University alumnus who is a registered parishioner at the All Saints Catholic Newman Center serving the University. I appreciate your investigative reporting; however, this report is seriously out-of-date.

For example, the building featured and photographed in this article was demolished shortly after the article was written, and has been replaced by a brand-new facility that an attendee will likely find to be far more comfortable. For instance, the metal folding chairs have been replaced by pews. Artwork is being installed as well. I would consider the main chapel to be highly attractive by Catholic standards. Additionally, the new main chapel places the musicians in a second-story choir loft, making their preparations less distracting.

The Newman Center is now served by two permanent diocesan priests of the Diocese of Phoenix, not a rotation of friars as it was in the past when this review was written. Also, the Newman Center has been transformed by the presence of four full-time missionaries sent to serve here. A social hall has been added and is home to frequent social events for students, young adults, and parishioners.

Also, the website asucatholic.org has been updated, and now is much more helpful for students.

Best wishes,
Mr Joshua Baldwin



We rely on voluntary donations to stay online. If you're a regular visitor to Ship of Fools, please consider supporting us.



Easter 2010

From Yunnan in China to Louisville in Kentucky, we report on Easter services, 2010. Read here.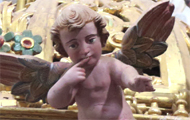 The Mystery Pilgrim

One of our most seasoned reporters makes the Camino pilgrimage to Santiago de Compostela in Spain. Read here.