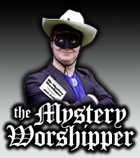 See our archive of reports
Famous/infamous
UK & Ireland
USA
Oz & NZ
Canada
Elsewhere

If you would like to become a Mystery Worshipper, start here.
1451: Chapel Royal of St Peter ad Vincula, Tower of London
Read this report | Other comments
19 October 2007

In his report on this service, Mordicus mentioned that "the kneeler on the chair next to mine had a large image of a skull and crossbones on it, with the words 'Or Glory' underneath."

I suspect this was the regimental Totenkopf badge of the Queen's Royal Lancers, or of one of its predecessor regiments back to the 17th Lancers (Duke of Cambridge's Own) formed during the Seven Years War. The Totenkopf badge was adopted in commemoration of General James Wolf, who died during the Battle of Quebec.

Edwin Garrett



We rely on voluntary donations to stay online. If you're a regular visitor to Ship of Fools, please consider supporting us.



Easter 2010

From Yunnan in China to Louisville in Kentucky, we report on Easter services, 2010. Read here.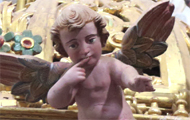 The Mystery Pilgrim

One of our most seasoned reporters makes the Camino pilgrimage to Santiago de Compostela in Spain. Read here.