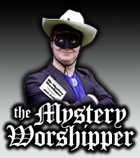 See our archive of reports
Famous/infamous
UK & Ireland
USA
Oz & NZ
Canada
Elsewhere

If you would like to become a Mystery Worshipper, start here.
1400: Our Lady and the English Martyrs, Cambridge, England
Read this report | Other comments
24 June 2007

I'm writing in response to the report on Our Lady & the English Martyrs, Cambridge. I do have a vested interest, being the director of the music group that sings at that particular mass. It's good to see an objective critique of what we do.

Point of correction: considering you did note that there are masses both in Latin and Polish as well as English, you commented that the 5 o'clock was the third of the day. It is actually the fifth (masses at 8.00, 9.30, 10.45 and 12.00 – Polish – before ours at 5.00pm). I'm not surprised you didn't get a mass book, but I am disappointed that you didn't manage to get a hymn sheet as there are 300 provided weekly.

The reason for the foreign language reading is that the 5 o'clock seems to draw many of our international community in Cambridge and our parish priest thought it would be good to have the second reading in a language other than English, by way of welcoming non-English speakers. So it's in a different language most weeks (the range of readers we have cover French, Italian, German, Czech, simple Chinese, Tagalog and Irish, and we hope to add more as we continue).

If you do want to experience the full range of music, the 10.45 has a semi-pro choir that sings an essentially traditional repertoire, or modern pieces composed in a traditional vein. The 9.45 is supposed to be the children's mass, but whoever chooses the music doesn't seem to be child friendly (in my humble opinion), as we sing very old-fashioned traditional hymns. At the 6.15pm (Sunday), there is the Latin mass, with Latin choir singing plainchant and classic composers such as Byrd, Monteverdi, etc. So there is a complete mix throughout any typical Sunday.

Joe Caprani



We rely on voluntary donations to stay online. If you're a regular visitor to Ship of Fools, please consider supporting us.



Easter 2010

From Yunnan in China to Louisville in Kentucky, we report on Easter services, 2010. Read here.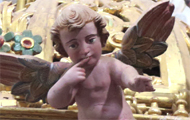 The Mystery Pilgrim

One of our most seasoned reporters makes the Camino pilgrimage to Santiago de Compostela in Spain. Read here.