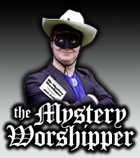 See our archive of reports
Famous/infamous
UK & Ireland
USA
Oz & NZ
Canada
Elsewhere

If you would like to become a Mystery Worshipper, start here.
1398: Gloria Dei Evangelical Lutheran, Providence, Rhode Island, USA
Read this report | Other comments
16 May 2007

According to Rhode Island Architecture (1939, new edition 1968) by Henry-Russell Hitchcock, the Gloria Dei Church was designed by Martin Hedmark and built in 1928. Its style, which Hitchcock rather patronizingly called "half-modern", is a piquant blend of classical and folk motifs favored by Scandinavian architects in the earlier years of the 20th century.

William Buckingham



We rely on voluntary donations to stay online. If you're a regular visitor to Ship of Fools, please consider supporting us.



Easter 2010

From Yunnan in China to Louisville in Kentucky, we report on Easter services, 2010. Read here.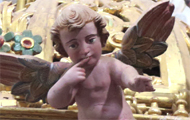 The Mystery Pilgrim

One of our most seasoned reporters makes the Camino pilgrimage to Santiago de Compostela in Spain. Read here.