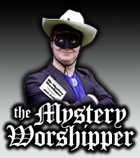 See our archive of reports
Famous/infamous
UK & Ireland
USA
Oz & NZ
Canada
Elsewhere

If you would like to become a Mystery Worshipper, start here.
1384: St Mark's Cathedral, Seattle, Washington, USA
Read this report | Other comments
1 August 2008

As one who regularly attended St Mark's (more than a few years ago) I would like to make a few comments about the building. The reason it looks the way it does is that it was never finished. The congregation went bankrupt shortly after it was started. For some time, it was actually unoccupied, as it was foreclosed by the bank. It was used during that time for storage by the US Army. It was reopened for services in 1947.

The rose window and some of the interior decorations have been added since I last saw it. The Flentrop Organ is magnificent, and compliments the bare acoustics of the building. At one time there was a model on display of the original plan for the church. It was to be Gothic in style, and the exterior finished in granite.

Sincerely

Ken Sturmer



We rely on voluntary donations to stay online. If you're a regular visitor to Ship of Fools, please consider supporting us.



Easter 2010

From Yunnan in China to Louisville in Kentucky, we report on Easter services, 2010. Read here.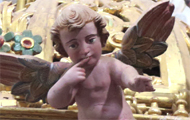 The Mystery Pilgrim

One of our most seasoned reporters makes the Camino pilgrimage to Santiago de Compostela in Spain. Read here.