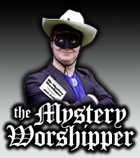 See our archive of reports
Famous/infamous
UK & Ireland
USA
Oz & NZ
Canada
Elsewhere

If you would like to become a Mystery Worshipper, start here.
1378: Grace Evangelical Lutheran, Hamilton, Ontario, Canada
Read this report | Other comments
1 April 2007

We appreciated Pewgilist's report on his/her visit to Grace. Just a couple of comments for correction:

The "unimpressive organ console near the pulpit" is a piano. The organ console is in the organ loft along with the church musician, unless he is playing the piano.

The "small table in front of the altar rail" is actually a communion table. Our "altar" is not moveable out from the wall, and so in keeping with the recommendations of Vatican II we have a communion table at which the pastor presides.

Wine is available from either the common cup or individual cups, along with grape juice in individual cups for children or others. Like the Anglicans, we do not practice intinction.

About "the unbilled acolytes". Those who participate are listed in the bulletin. One was an assisting minister and the other an acolyte.

Peace

Revd Loretta Jaunzarins
Pastor, Grace Evangelical Lutheran Church



We rely on voluntary donations to stay online. If you're a regular visitor to Ship of Fools, please consider supporting us.



Easter 2010

From Yunnan in China to Louisville in Kentucky, we report on Easter services, 2010. Read here.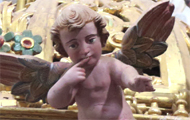 The Mystery Pilgrim

One of our most seasoned reporters makes the Camino pilgrimage to Santiago de Compostela in Spain. Read here.