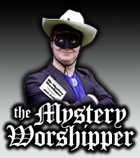 See our archive of reports
Famous/infamous
UK & Ireland
USA
Oz & NZ
Canada
Elsewhere

If you would like to become a Mystery Worshipper, start here.
1375: West Edmonton Christian Assembly, Edmonton, Alberta, Canada
Read this report | Other comments
30 March 2007

We knew this day would come. At long last we have been discovered as the extreme, close minded, right wing fundamentalist group we really are. We knew someday, a masked stranger would see through our polyester veneer and discern the comfy, self serving nature of our assembly.

Perhaps our mistake was to hide our mission to carry on the cause of Jesus. We were wrong to keep secret our agenda of building a belonging community, where everyone is welcome, no matter what their lifestyle or belief. Who was it that decided to bury the knowledge that our God is capable of transforming lives, and that our job is to embrace those lives? Why did we wrongly assume that our church is full because people are challenged by the preaching? What sick stroke of fate led almost 100 new people to our recent newcomer's dinner? Do they see through the facade too?

Make no mistake, West Edmonton Christian Assembly has been "zinged". Mr and Mrs Blender nailed us on the way we dress, our style and feel, our interpretation of the Bible, and our "black and white" values.

But on that fateful day, there was another couple who were also secretly evaluating this church. My wife and I were visiting for the first time. We saw a tight community of people who were genuinely excited to be together and were embracing of new people. They recognized that they had some changes to make in order to relate the unchangeable message of the gospel of Christ to a changing culture. And they were willing to put it all on the table – in order to see lives transformed. We were so impressed, that I joined the staff a month later.

When the gang in our office read the review on Ship of Fools (which we found by accident), we had a good laugh. I found it hard not to judge the worldview and theology of the author, based on such a small snapshot of his opinions – after all, we wouldn't want someone to judge us that way... (awkward pause). But I did figure out why he was so captivated by what our senior pastor was wearing. His outfit bears a striking resemblance to the picture of the Mystery Worshipper on the website!

Mr and Mrs Blender, you are welcome here anytime.

God bless you as to advance His Kingdom in your own way.

Sincerely

A staff member of West Edmonton Christian Assembly



We rely on voluntary donations to stay online. If you're a regular visitor to Ship of Fools, please consider supporting us.



Easter 2010

From Yunnan in China to Louisville in Kentucky, we report on Easter services, 2010. Read here.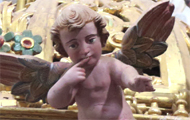 The Mystery Pilgrim

One of our most seasoned reporters makes the Camino pilgrimage to Santiago de Compostela in Spain. Read here.