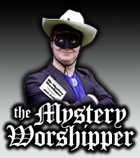 See our archive of reports
Famous/infamous
UK & Ireland
USA
Oz & NZ
Canada
Elsewhere

If you would like to become a Mystery Worshipper, start here.
1367: College Chapel, King's College London, The Strand, London
Read this report | Other comments
8 March 2007

Many thanks for the glowing report on Choral Evensong in the College Chapel at King's College London.

If readers like the sound of that, they may like to know that as well as Choral Evensong at 5.30pm every Tuesday during term time, there is also a Choral Eucharist every Wednesday during term time, at 1.10pm, to which all are welcome. By way of reassurance, the water leak has been repaired, and the cleaning of the chandeliers which was then necessary means that the Chapel now gleams brighter than ever!

Yours sincerely

Revd Dr Richard Burridge
Dean, King's College London



We rely on voluntary donations to stay online. If you're a regular visitor to Ship of Fools, please consider supporting us.



Easter 2010

From Yunnan in China to Louisville in Kentucky, we report on Easter services, 2010. Read here.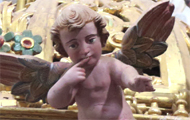 The Mystery Pilgrim

One of our most seasoned reporters makes the Camino pilgrimage to Santiago de Compostela in Spain. Read here.