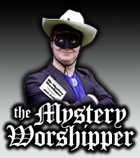 See our archive of reports
Famous/infamous
UK & Ireland
USA
Oz & NZ
Canada
Elsewhere

If you would like to become a Mystery Worshipper, start here.
136: Mutley Baptist, Plymouth, England

Read this report | Other comments

15 February 2017

I have been "connected" to Mutley Baptist in various ways since 1964 and would like to bring you up-to-date on what has been going on since your Mystery Worshipper last visited us.

Ian Coffee has left us. Andy Caldwell served for about eight years, and now the senior pastor is Clive Burnard, and the associate pastor is Ross Maynard.

We have three very different services on a Sunday.

The first, at 9.00am, is a more traditional service, with organ, traditional hymns, etc., aimed at but not exclusively for the older members.

The 10.30am service is a "family" type service, led mainly by one of four or five bands, but with occasional organ. (Repeat of the 9.00am sermon.)

At 6.30pm we have a service aimed at the the large student body from the very local Plymouth University, although many older members attend.

Coffee after our services is not instant but "real" coffee from beans ground just before being served! Tea brewed in a pot is also available. (Both are served in proper china cups.)

The church has a strong mission outreach, with about twelve full time overseas workers in such places as Bahrain, Bali, China, Papua New Guinea, South Africa and Uganda, plus many short term workers.

There is also a very strong local mission to the homeless, addicts, financially needy, etc., many of whom will now be found in the Sunday services. Your Mystery Worshipper may wish to pay us another visit to observe these works as well as many others.

Revd Stanley Porter



We rely on voluntary donations to stay online. If you're a regular visitor to Ship of Fools, please consider supporting us.



Easter 2010

From Yunnan in China to Louisville in Kentucky, we report on Easter services, 2010. Read here.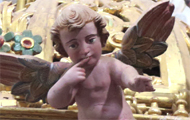 The Mystery Pilgrim

One of our most seasoned reporters makes the Camino pilgrimage to Santiago de Compostela in Spain. Read here.