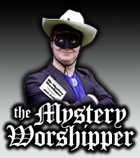 See our archive of reports
Famous/infamous
UK & Ireland
USA
Oz & NZ
Canada
Elsewhere

If you would like to become a Mystery Worshipper, start here.
1334: Vanguard Church, Colorado Springs, Colorado, USA
Read this report | Other comments
21 January 2007

I read with interest your comments on Vanguard Church in Colorado Springs. Have been going there for about five months now and I agree with most of your remarks. But not sure where you get the 55 minute "sermon" from.

Usually, Pastor Kelly starts around 10.30-10.35 and is done speaking around 11.00 since there is another service at 11.30. Guess it was too dark to see your watch in the service?

Anyway, I concur with your comments about people coming in late all the time. Many are probably parents with little kids and they have to find a parking space and check their kids in, and by the time this is all done, the service is well underway.

Gerry Miller



We rely on voluntary donations to stay online. If you're a regular visitor to Ship of Fools, please consider supporting us.



Easter 2010

From Yunnan in China to Louisville in Kentucky, we report on Easter services, 2010. Read here.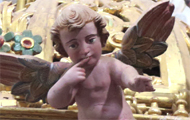 The Mystery Pilgrim

One of our most seasoned reporters makes the Camino pilgrimage to Santiago de Compostela in Spain. Read here.