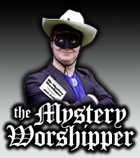 See our archive of reports
Famous/infamous
UK & Ireland
USA
Oz & NZ
Canada
Elsewhere

If you would like to become a Mystery Worshipper, start here.
1332: St Edmund's, Acle, Norfolk, England
Read this report | Other comments
17 February 2007

Many thanks for writing this report about our church. It was a good service,

ad hoc

and trying new things out in Norfolk. By the way, I am the new looking rector with the Jedi cufflinks!

However, I was greatly displeased by your reaction towards our two sidesperson. God told us not to judge, so I believe your judging of my precious congregation to be derogatory and most unhelpful. I do hope that your Mystery Worshipper has the courage to contact the rector of this parish to personally apologise to Margaret and Catherine, who have read this report and who are now unwilling to steward, due to your remarks.

The Mystery Worshipper makes no sense at all. Are you playing at being Ofsted for churches?

Could you please contact me as soon as possible on this matter. Many of my local, smaller parish churches (I have five) try their hardest to be church. I am proud of them and as you can tell, I am very loyal when it comes to people making negative comments about individuals who were trying their hardest.

I look forward to hearing from you very, very soon, with an apology.

Revd Daniel Bond



The comments in question have now been removed, at the request of the Mystery Worshipper. – Editor



We rely on voluntary donations to stay online. If you're a regular visitor to Ship of Fools, please consider supporting us.



Easter 2010

From Yunnan in China to Louisville in Kentucky, we report on Easter services, 2010. Read here.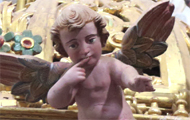 The Mystery Pilgrim

One of our most seasoned reporters makes the Camino pilgrimage to Santiago de Compostela in Spain. Read here.