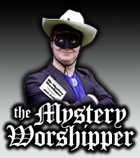 See our archive of reports
Famous/infamous
UK & Ireland
USA
Oz & NZ
Canada
Elsewhere

If you would like to become a Mystery Worshipper, start here.
1330: Abundant Life, Bradford, Yorkshire, England
Read this report | Other comments
3 April 2007

I just read your report from Bradford and felt I had to comment. I can understand your reviewer's reaction as a one-visit response – you could be mistaken for thinking that Bradford is inward looking for the reason that they are excited to be the church they are. But looking deeper into things, I think you would find a very different picture.

Bradford is a deprived area, with lots of racial tension, etc. You ask a person on the street in Bradford where Abundant Life is, and they will tell you straight away. Everybody has heard of it – and for good reason! They are very outward looking. They give so much to their community, it's unbelievable: they send families on holidays, give mountain bikes to the kids, and do so many different projects amongst the poor and needy.

I've only been there once myself for a conference. At first, my reaction was similar to your reviewer's, but that changed after a few days, especially when I read about what they are doing in their community. Abundant Life is a great church. It's a pity not to give the other side of the story.

Love your site, though, guys – very witty!

Becky Morgan, Wales

29 October 2012

I think you chose the wrong service to attend, it being the evening service. It would be nice to see an up-to-date visit at the main service at 10.30am.

The name has changed to Life Church, Bradford.

Regards,
David



We rely on voluntary donations to stay online. If you're a regular visitor to Ship of Fools, please consider supporting us.



Easter 2010

From Yunnan in China to Louisville in Kentucky, we report on Easter services, 2010. Read here.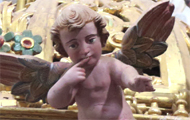 The Mystery Pilgrim

One of our most seasoned reporters makes the Camino pilgrimage to Santiago de Compostela in Spain. Read here.