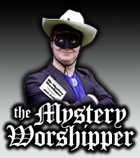 See our archive of reports
Famous/infamous
UK & Ireland
USA
Oz & NZ
Canada
Elsewhere

If you would like to become a Mystery Worshipper, start here.
1328: Old Swedes Church, Wilmington, Delaware, USA

Read this report | Other comments

25 January 2008

Dear Amanda

Thanks for your attendance at Old Swedes Church in Wilmington and for the report (I was the crucifer that day).

One suggestion: when you detect an accent unlike anyone else's in attendance – namely, that of our former Associate Rector, Brad Hinton – make sure you know what the accent is before you list it in error. Brad is from Alabama. There's no such thing as a "Delaware Dixie" (we found that hilarious), since the Delaware accent is much like that of Philadelphia, the area with which we are most associated. Delaware is in the northern sector of the Middle Atlantic States, so we in New Castle County are unequivocally identified as what others in the country call the Northeast.

Also, the acolyte you mention as Roger Hawkins was actually Jeff Brown, so before you write a report, check that the names listed on the service program are the same as those serving that day. Jeff does cross his legs and occasionally does wear scruffy deck shoes, but if that's the worst you see in church, you must be singularly blessed! However, I never cross my legs at the altar, so the entire alter party did not do so, as your report states. If you're new to journalism, accuracies are important for establishing and maintaining credibility.

In any case, thanks again for your visit. As a matter of fact, Brad Hinton was installed last week as the new rector of St Thomas Church (also in Wilmington); our former rector, Anne Bonnyman, is now at Trinity Church, Boston. Consequently, Trinity/Old Swedes will have a new rector and associate rector this year, so we hope you visit us again sometime.

Cheers

Betsy Chapin
Assistant Professor of English
Gwynedd-Mercy College
Amanda B. Reckondwythe replies:
12 February 2009

Mrs Chapin, it is not my responsibility to "check that the names listed on the service program are the same as those serving that day," as you assert. Why should I have any cause to believe that they are different? And I couldn't care less that Mr Brown crosses his legs and wear the scruffiest brown deck shoes he can find, but when he does it in church, it makes the Blessed Mother and the Little Infant of Prague weep, as everyone on Ship of Fools knows.

And although I will allow as how Wilmington lies outside the Mason-Dixon line, to a New Yorker's ears you all talk funny south of Perth Amboy, New Jersey.

Amanda B. Reckondwythe





We rely on voluntary donations to stay online. If you're a regular visitor to Ship of Fools, please consider supporting us.



Easter 2010

From Yunnan in China to Louisville in Kentucky, we report on Easter services, 2010. Read here.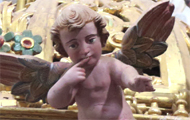 The Mystery Pilgrim

One of our most seasoned reporters makes the Camino pilgrimage to Santiago de Compostela in Spain. Read here.