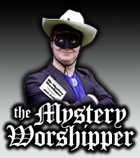 See our archive of reports
Famous/infamous
UK & Ireland
USA
Oz & NZ
Canada
Elsewhere

If you would like to become a Mystery Worshipper, start here.
1318: Grace Cathedral, San Francisco, California, USA
Read this report | Other comments
23 January 2007

As a parishioner of Grace Cathedral, I can attest to the fact that the confession is normally said, but why it was omitted on 28 May 2006 I do not know (I happened to be out of town that Sunday). Further, I tend to agree with Abed-Nego that the notices often times do become too intrusive and long, especially since they are printed on the service sheets. Certainly this may be for the benefit of visitors, as speculated, however the parish of Grace Cathedral is thriving and I can assure you that most of the people in the congregation were regulars.

I'm very pleased you enjoyed your time worshipping in our community. I hope you would consider joining us again on your next visit to San Francisco.

Jeff McMahon


6 December 2006

A quick note concerning this report: page 359 of the (American 1979) Book of Common Prayer notes that, "On occassion, the Confession may be ommitted." In many churches, the confession is ommitted during the Easter season. My guess is that this is the case at Grace Cathedral.

Curtis Hamilton
Harrisonville, MO



We rely on voluntary donations to stay online. If you're a regular visitor to Ship of Fools, please consider supporting us.



Easter 2010

From Yunnan in China to Louisville in Kentucky, we report on Easter services, 2010. Read here.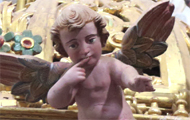 The Mystery Pilgrim

One of our most seasoned reporters makes the Camino pilgrimage to Santiago de Compostela in Spain. Read here.