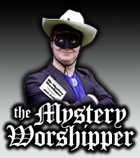 See our archive of reports
Famous/infamous
UK & Ireland
USA
Oz & NZ
Canada
Elsewhere

If you would like to become a Mystery Worshipper, start here.
126: Edington Priory, Wiltshire, England
Read this report | Other comments
19 September 2005

The Mystery Worshipper who visited the Priory Church in Edington, Wiltshire, UK, for the final Sunday of The Edington Festival is to be admired both for his/her superb writing style and the reaction to that wonderful service.

I have attended the festival many times, made an audiovisual presentation of the entire week, and am an aficionado. I am commissioned almost every year to write the words for a new hymn based on the theme for the day, with the composer John Barnard. Edington always leaves me wanting it to last for another 51 weeks.

Paul Wigmore



We rely on voluntary donations to stay online. If you're a regular visitor to Ship of Fools, please consider supporting us.



Easter 2010

From Yunnan in China to Louisville in Kentucky, we report on Easter services, 2010. Read here.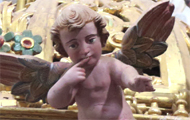 The Mystery Pilgrim

One of our most seasoned reporters makes the Camino pilgrimage to Santiago de Compostela in Spain. Read here.