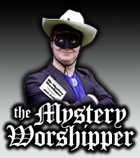 See our archive of reports
Famous/infamous
UK & Ireland
USA
Oz & NZ
Canada
Elsewhere

If you would like to become a Mystery Worshipper, start here.
1259: Liverpool Cathedral, Liverpool, England
Read this report | Other comments
28 July 2006

Dear Sir/Madam

I have just read Nick Bari's story on the sung eucharist at Liverpool Cathedral. I only would like to know why he felt that the worship was more Lutheran than Anglican. And if Lutheran, which sort of Lutheranism: was he referring to American, Scandinavian or German?

My own vision is that the worship is very Anglican, a little bit lower perhaps than in other English cathedrals.

The cathedral is a lovely building, too big for the normal Sunday congregation. However, if you are there for an ordination, you will not find empy seats. And then the singing is of choir and congregation is really superb.

Yours sincerely

Robert Kennedy



We rely on voluntary donations to stay online. If you're a regular visitor to Ship of Fools, please consider supporting us.



Easter 2010

From Yunnan in China to Louisville in Kentucky, we report on Easter services, 2010. Read here.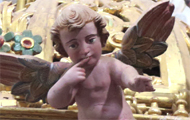 The Mystery Pilgrim

One of our most seasoned reporters makes the Camino pilgrimage to Santiago de Compostela in Spain. Read here.