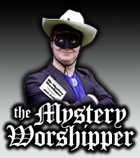 See our archive of reports
Famous/infamous
UK & Ireland
USA
Oz & NZ
Canada
Elsewhere

If you would like to become a Mystery Worshipper, start here.
1257: St Pancras, Euston, London, England
Read this report | Other comments
24 July 2006

In this report, the building is described thus: "Impressive building with a gallery, apse and very similar to a Roman temple." Roman temple? ROMAN temple? Mrs Alighieri is clearly in need of a holiday in the Mediterranean... to study the differences between Greek and Roman temples. The ancient Greeks would be outraged. See here.

Aristotle



We rely on voluntary donations to stay online. If you're a regular visitor to Ship of Fools, please consider supporting us.



Easter 2010

From Yunnan in China to Louisville in Kentucky, we report on Easter services, 2010. Read here.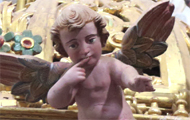 The Mystery Pilgrim

One of our most seasoned reporters makes the Camino pilgrimage to Santiago de Compostela in Spain. Read here.