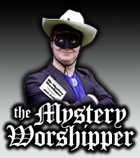 See our archive of reports
Famous/infamous
UK & Ireland
USA
Oz & NZ
Canada
Elsewhere

If you would like to become a Mystery Worshipper, start here.
1256: Hallgrímskirkja, Reykjavík, Iceland

Read this report | Other comments

1 July 2006

Your Mystery Worshipper says that the columns on the church tower represent organ pipes. When I was there in the 1960s when only the tower existed without the actual church building, I was told that they reflect the basaltic columns formed volcanically which are found in Iceland. These are similar to those at Fingal's Cave on Staffa, Scotland, and at the Giant's Causeway in Northern Ireland. To me this would seem more appropriate to an Icelandic national church.

Tom Megahy, Loughborough, England
Amanda B. Reckondwythe replies:
2 July 2006

The guide books do say that the columns flanking the west entrance represent basaltic volcanic formations. To me, however, they resemble organ pipes. I also thought the entire west facade resembles a geyser. My review does not claim to report the official line; I merely wrote down how it seemed to me.

Amanda B. Reckondwythe





We rely on voluntary donations to stay online. If you're a regular visitor to Ship of Fools, please consider supporting us.



Easter 2010

From Yunnan in China to Louisville in Kentucky, we report on Easter services, 2010. Read here.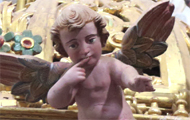 The Mystery Pilgrim

One of our most seasoned reporters makes the Camino pilgrimage to Santiago de Compostela in Spain. Read here.