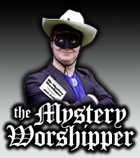 See our archive of reports
Famous/infamous
UK & Ireland
USA
Oz & NZ
Canada
Elsewhere

If you would like to become a Mystery Worshipper, start here.
1250: Woodmen Valley Chapel, Colorado Springs, Colorado, USA

Read this report | Other comments

April 12, 2015

Harriet M. Welsch reviewed Woodmen Valley Chapel and wrote in answer to the question: "What happened when you hung around after the service looking lost?" the following:

"I stood there and people walked past me. I saw a student from the school I work at and we greeted each other. Otherwise, people looked at me but said nothing. I'm not the most outgoing person. Maybe people thought I didn't want to talk. But I tried to look friendly and social."

I experienced the same thing at both the 9.00am service and the 11.00am service. I haven't seen people leave a service so fast since attending a Catholic service in the 1970s, when they at least had the excuse of not having been allowed to eat before receiving communion.

I never cried in a church parking lot until I attended Woodmen Valley Chapel. Week after week, people (I refuse to call them Christians) would walk right past me. In one case it was a small family with two young boys with whom I had spoken several weeks in a row. It was as if they were afraid of reaching out to strangers. I couldn't figure it out. I wondered what was wrong with me.

I tried joining one of their groups, but was told that the members had already established themselves as "family" and that bringing a new member into the group would "break up the family." That's right. They actually said that! If Jesus had discouraged people from becoming his disciples because they would "break up the family," the Christian church would have died in the first century.

I offered to start a new group that would meet at my home, but was told by the group leader, "That's too far for us to drive."

I made my concerns known to Matthew Heard, the senior pastor, and was told, "Why don't you come and get counseling at the church's pastoral care center?" But I had already received counseling a few years back when I was going through some marriage problems, and it was the counselor who had told me to join a small group! Shortly after that, I learned that Matthew Heard had forwarded my complaint via e-mail to just about everyone in the State of Colorado.

Someone told me that Matthew Heard has "resigned", although someone else told me that he was fired, probably because he was never there on Sundays. I don't know. I haven't been back since my unpleasant experience, but I sure hope it's changed. I doubt it, though.

Other people have told me that they were treated the same way.

So what do I tell people? Well, for the most part, I tell them that megachurches aren't terribly friendly, but that Woodmen Valley Chapel seemed to go out of its way to be unfriendly. I decided that if Jesus ever showed up, they'd kick him out for "trying to break up the family." I wouldn't send my worst enemy to that place!

So, Harriet, there's nothing wrong with you. It's just that they don't care!

Mary Smith



We rely on voluntary donations to stay online. If you're a regular visitor to Ship of Fools, please consider supporting us.



Easter 2010

From Yunnan in China to Louisville in Kentucky, we report on Easter services, 2010. Read here.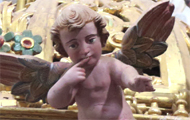 The Mystery Pilgrim

One of our most seasoned reporters makes the Camino pilgrimage to Santiago de Compostela in Spain. Read here.