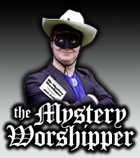 See our archive of reports
Famous/infamous
UK & Ireland
USA
Oz & NZ
Canada
Elsewhere

If you would like to become a Mystery Worshipper, start here.
1245: Christ Church, Poughkeepsie, New York, USA
Read this report | Other comments
10 June 2006

On May 28th of this year someone visited Christ Church, Poughkeepsie, NY. No mention was made of the fact that the church has been haunted since the death of long-time Rector Cummins, who retired in 1946.

His spirit remained in the church, blowing out candles, causing lights to be turned on when no one was there, causing books to be moved in boxes on the floor.

Richard Ditewig



We rely on voluntary donations to stay online. If you're a regular visitor to Ship of Fools, please consider supporting us.



Easter 2010

From Yunnan in China to Louisville in Kentucky, we report on Easter services, 2010. Read here.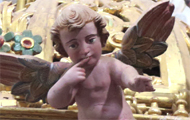 The Mystery Pilgrim

One of our most seasoned reporters makes the Camino pilgrimage to Santiago de Compostela in Spain. Read here.