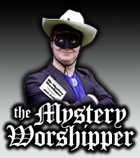 See our archive of reports
Famous/infamous
UK & Ireland
USA
Oz & NZ
Canada
Elsewhere

If you would like to become a Mystery Worshipper, start here.
1239: St Mary the Virgin, Holy Island of Lindisfarne, Northumberland, England
Read this report | Other comments
6 December 2007

I have visited St Mary's when I have stayed on the Island (like Susan who has previously commented).

I personally have attended morning communion (starting at 8am) which lasts for half an hour and always includes a sermon. Although I receive communion weekly in my own church, this service is always special and benefits from the varying people who officiate.

I agree with Susan that the islanders need their time, as they get overwhelmed with visitors during daylight hours.

Andrea Jones


20 May 2006

I went to St Mary's, Holy Island, for an October Sunday communion a couple of years ago and found it as welcoming as I wanted it to be. I was hardly likely to become a regular, nor was I likely to be converted on the spot (even if I had needed to be), so I would have thought anything more than a cheery welcome to Lindisfarne would be a bit of a waste of pastoral effort unless I was showing signs of spiritual distress.

Moreover, it's the only place I've ever heard anyone preach against the Norman Conquest.

Roundhead


18 May 2006

Dear Kettle

I've been to Holy Island many times, on retreats and for shorter visits. I think your expectations of the service at St Mary's were a little unfair.

I've never found them unwelcoming, but the people of Holy Island can seem reserved. Maybe it's something to do with living on a small island; I've noticed something similar in the Hebrides. And it's an island that doesn't so much get "a lot" of visitors as get inundated by them. You were there at a relatively quiet time of the year, but in summer when the tides are right, the island is crammed. The church is often treated as just another tourist attraction.

This means that on a Sunday the clergy have to cope with a constantly changing congregation. Many of the visitors want worship somehow to make a connection with the Lindisfarne of St Cuthbert rather than the world of today. Also, it must be difficult to ensure that the faithful villagers don't feel that they are sidelined in order to cater for the visitors.

The best way to experience Holy Island is to be there when the tide is in and the crowds have gone. Stay overnight (I'd recommend Marygate retreat house) and go to morning prayer at 7.30am. It's solemn and reserved and very beautiful. Afterwards you can go outside and listen to the curlews and the seals singing, and feel closer to the essence of the place.

Best wishes

Susan



We rely on voluntary donations to stay online. If you're a regular visitor to Ship of Fools, please consider supporting us.



Easter 2010

From Yunnan in China to Louisville in Kentucky, we report on Easter services, 2010. Read here.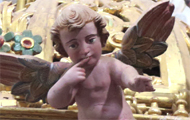 The Mystery Pilgrim

One of our most seasoned reporters makes the Camino pilgrimage to Santiago de Compostela in Spain. Read here.