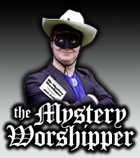 See our archive of reports
Famous/infamous
UK & Ireland
USA
Oz & NZ
Canada
Elsewhere

If you would like to become a Mystery Worshipper, start here.
1197: Southampton University Chaplaincy, Highfield Campus, Southampton, England
Read this report | Other comments
16 March 2006

I am a student at Southampton University, and I was present at the above mentioned service. I thank your Mystery Worshipper for her positive comments, and I feel that we can learn from this experience. However, I would like to add further explanations for a few issues that she raised.

When your Mystery Worshipper walked in, I thought she was a member of staff. It is perhaps worth bearing in mind that the service is mainly aimed at students and so won't be to everyone's taste. However, we do have staff that come, so it's good that she could make comments from that point of view.

When we do have staff that come to the service, we do usually have a "deafening silence" before the service, as students and staff usually have fairly formal relationships with each other and so we find it difficult to relate to each other in an informal setting. However, discussion tasks help to break the ice, and there are staff that we don't feel so awkward with because they have been more than once. It also doesn't help that staff often don't have time to stay and socialise afterwards.

Contrary to the belief of your Mystery Worshipper, we don't all know each other. Some knew each other because they are members of Christian societies that meet in the Chaplaincy. A lot of people have been more than once to the Wednesday lunchtime service, and a few come nearly every week, but equally we have one or two new people every week. So it means that every week there are people who haven't met each other before. It is because we are all students that we can easily relate to each other, perhaps giving the impression that we know each other.

Finally, to clear up the paper chain issue. The paper chain is symbolic of Christian unity, and was made during an ecumenical service for Christian Unity Week, by members of the CU, Student Christian Movement and Cathsoc. It was felt by those present that it should be on permanent display as a reminder of Christian unity.

Melanie Brockless



We rely on voluntary donations to stay online. If you're a regular visitor to Ship of Fools, please consider supporting us.



Easter 2010

From Yunnan in China to Louisville in Kentucky, we report on Easter services, 2010. Read here.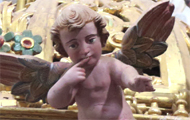 The Mystery Pilgrim

One of our most seasoned reporters makes the Camino pilgrimage to Santiago de Compostela in Spain. Read here.