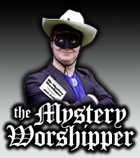 See our archive of reports
Famous/infamous
UK & Ireland
USA
Oz & NZ
Canada
Elsewhere

If you would like to become a Mystery Worshipper, start here.
1184: St Margaret Mary's, Oakland, California, USA
Read this report | Other comments
18 May 2007

I very much enjoyed your review of the tridentine mass at St Margaret Mary, which is our home parish.

I'm sorry to hear that you didn't feel welcomed by the parishioners after mass. I suspect this might be because there was no regular reception in the parish hall that day, because of the Oktoberfest. Because there isn't any socializing in the church either before or after mass, the reception is where you really have a chance to meet other parishioners – and Fr Wiener is very good about introducing himself to unfamiliar faces he sees in the hall at the reception.

My wife and I (and our children) have found the community at St Margaret Mary's to be very welcoming – much more so that the "happy clappy" parish we used to belong to. I hope if you are in our area again, you'll join us for mass. My family and I would be pleased to make your acquaintance.

Sincerely,

Don Roberts



We rely on voluntary donations to stay online. If you're a regular visitor to Ship of Fools, please consider supporting us.



Easter 2010

From Yunnan in China to Louisville in Kentucky, we report on Easter services, 2010. Read here.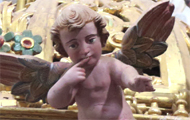 The Mystery Pilgrim

One of our most seasoned reporters makes the Camino pilgrimage to Santiago de Compostela in Spain. Read here.