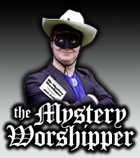 See our archive of reports
Famous/infamous
UK & Ireland
USA
Oz & NZ
Canada
Elsewhere

If you would like to become a Mystery Worshipper, start here.
1182: First United Methodist, Hershey, Pennsylvania, USA
Read this report | Other comments
27 February 2006

In your report on First United Methodist, Hershey, PA, the worshipper stated that the organ was an electronic instrument. It is in fact a 1957 Kilgen pipe organ. Though no pipes are visible, there are 28 ranks in chambers on either side of the chancel.

I appreciate the Mystery Worshipper's comments on my music contribution that day.

Shawn M. Gingrich
Director of Music Ministry



We rely on voluntary donations to stay online. If you're a regular visitor to Ship of Fools, please consider supporting us.



Easter 2010

From Yunnan in China to Louisville in Kentucky, we report on Easter services, 2010. Read here.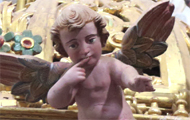 The Mystery Pilgrim

One of our most seasoned reporters makes the Camino pilgrimage to Santiago de Compostela in Spain. Read here.