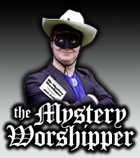 See our archive of reports
Famous/infamous
UK & Ireland
USA
Oz & NZ
Canada
Elsewhere

If you would like to become a Mystery Worshipper, start here.
1176: St Mary's, New Haven, Connecticut, USA
Read this report | Other comments
12 February 2006

As a former parishioner of St Mary in New Haven, CT, I'd like to comment on the recent report posted on Ship of Fools.

St Mary's is an inner city parish and relies greatly on a congregation drawn from the surrounding New Haven area as well as the Yale University community. At times when Yale is not in session, attendance does go down. I think that the feast of Christ the King was over Thanksgiving weekend, that would explain the mediocre attendance on a feast.

The 12 noon Sunday mass was the summit of the liturgical day at St Mary's. The Schola Cantorum was always top notch, being mostly made up of musicians and music students from Yale. On a weekly basis, the mass ordinary was sung plainchant by the Schola and congregation, with the choir singing the propers and motets at the offertory and communion. On holy days the Schola sang the mass ordinary by one of the masters. Christmas and Easter are extraordinarily festive with strings and brass and usually a mass by Mozart or Haydn. Holy Week was especially moving and liturgically well done.

When I attended, Fr Aaron Laushway was prior and Fr Jordan McConway was vicar. The preaching was top notch, as expected from the Dominicans. The very best in guest preachers from the OPs came often to preach. As I have not attended for about 10 years now, I can't speak to the level preaching currently.

If I was Amanda, I'd give it another try. St Mary's was unparalleled in Connecticut, I hope that it still is.

John Kohanski
Rocky Hill, CT, USA



We rely on voluntary donations to stay online. If you're a regular visitor to Ship of Fools, please consider supporting us.



Easter 2010

From Yunnan in China to Louisville in Kentucky, we report on Easter services, 2010. Read here.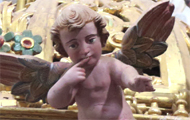 The Mystery Pilgrim

One of our most seasoned reporters makes the Camino pilgrimage to Santiago de Compostela in Spain. Read here.