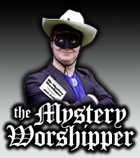 See our archive of reports
Famous/infamous
UK & Ireland
USA
Oz & NZ
Canada
Elsewhere

If you would like to become a Mystery Worshipper, start here.
1164: Cathedral of St John the Divine, New York City
Read this report | Other comments
7 March 2006

In this report, the Mystery Worshipper commented: "It is hard to escape the feeling that St John the Divine as a cathedral building is a hopeless cause. It had been about 18 years since my last visit, and in spite of the progress on the south tower (all made at least a decade ago) the cathedral still looks obviously unfinished and is even beginning to show signs of neglect. It stands as a sad, poor relation to other edifices of similar scale, such as the Washington National Cathedral."

Thank you for the review of the Cathedral of St John the Divine. Indeed it has been a difficult time for us, but also a hopeful one. As the co-warden of the congregation I can say the plans for restoration and real estate development will make it a magnificent place to visit and to worship. I have attached the benefits of the current project and hope you will visit us in 2008 when we plan to reveal a newly cleaned and restored Cathedral.

Project benefits:

> Assures the conservation and preservation of the Cathedral buildings and open space of the campus, a great municipal asset.
> Sustains the religious, social, cultural and educational mission commitment of the Cathedral to the neighborhood and the City.
> Provides an appropriate and restrained perimeter building design that is respectful of the Cathedral and surrounding community.
> Creates a significant amount of newly designed outdoor space open to the public.
> Increases access to the Cathedral grounds on four sides.
> Enlivens the streets surrounding the campus, making them safer for pedestrians.
> Increases substantially the long-term economic activity in the neighborhood.
> Generates both construction-related and permanent jobs on the site.

Sandra Lee Schubert



We rely on voluntary donations to stay online. If you're a regular visitor to Ship of Fools, please consider supporting us.



Easter 2010

From Yunnan in China to Louisville in Kentucky, we report on Easter services, 2010. Read here.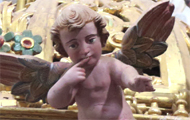 The Mystery Pilgrim

One of our most seasoned reporters makes the Camino pilgrimage to Santiago de Compostela in Spain. Read here.