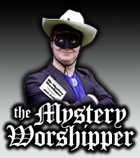 See our archive of reports
Famous/infamous
UK & Ireland
USA
Oz & NZ
Canada
Elsewhere

If you would like to become a Mystery Worshipper, start here.
1115: St Peter & St Paul, Eye, Suffolk, England
Read this report | Other comments
13 September 2005

I always enjoy your reports, but would like to point out that Eye is not "almost unique" as an Anglo-Catholic church in the St Edmundsbury Diocese. In Ipswich we have two Anglo-Catholic churches (St Mary-at-the-Elms and St Bartholomew), and there are also Ufford and Mendlesham, to name only a few.

Admittedly, some are served by a "flying bishop" but they are actually still in the Diocese! Suffolk has always been known as having a strong A-C tradition.

A Mystery Commentator



We rely on voluntary donations to stay online. If you're a regular visitor to Ship of Fools, please consider supporting us.



Easter 2010

From Yunnan in China to Louisville in Kentucky, we report on Easter services, 2010. Read here.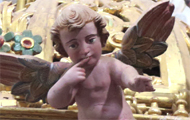 The Mystery Pilgrim

One of our most seasoned reporters makes the Camino pilgrimage to Santiago de Compostela in Spain. Read here.