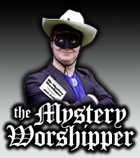 See our archive of reports
Famous/infamous
UK & Ireland
USA
Oz & NZ
Canada
Elsewhere

If you would like to become a Mystery Worshipper, start here.
1105: St Mary of the Angels, Chicago, Illinois, USA

Read this report | Other comments

August 18, 2017

In the section "The building" it states that the building was slated for demolition by the archdiocese.

The church building was never slated for demolition by the archdiocese or anyone else. Reports to that effect are in error.

The building suffered from delayed maintenance and it would have cost as much or more to take the building down than to address the maintenance issue. The church building was closed under the guise of "unsafe conditions."

It was reopened in October 1992.

Mrs Teresa Urbaszewski



We rely on voluntary donations to stay online. If you're a regular visitor to Ship of Fools, please consider supporting us.



Easter 2010

From Yunnan in China to Louisville in Kentucky, we report on Easter services, 2010. Read here.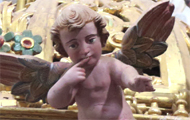 The Mystery Pilgrim

One of our most seasoned reporters makes the Camino pilgrimage to Santiago de Compostela in Spain. Read here.