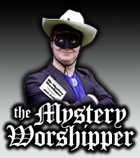 See our archive of reports
Famous/infamous
UK & Ireland
USA
Oz & NZ
Canada
Elsewhere

If you would like to become a Mystery Worshipper, start here.
1093: St Michael and All Saints, Edinburgh, Scotland
Read this report | Other comments
27 June 2005

Dear Editor

The only thing I wish to comment on regarding the recent report on St Michael and All Saints, Edinburgh, is the reporter's disappointment at the use of "continental traditions".

May I remind him/her that traditionally Scotland has always had strong links with Continental Europe, especially at a time when we were less than friendly towards England (the Tudor/Mary Queen of Scots era, or during the Jacobite troubles). Similarly, The Scottish Episcopal Church, while being an integral part of the Anglican Communion, and sharing many doctrinal traditions and even a priesthood with our English sister church, is not, never has been and never will be, unlike the Church of Ireland or the Church of Wales, a subsidiary or daughter of the Church of England.

Thank you for an otherwise very favourable report which highlighted exactly the ethos of St Michael and All Saints.

John McEwan, magazine editor and altar server



We rely on voluntary donations to stay online. If you're a regular visitor to Ship of Fools, please consider supporting us.



Easter 2010

From Yunnan in China to Louisville in Kentucky, we report on Easter services, 2010. Read here.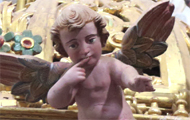 The Mystery Pilgrim

One of our most seasoned reporters makes the Camino pilgrimage to Santiago de Compostela in Spain. Read here.