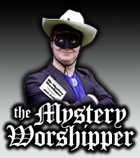 See our archive of reports
Famous/infamous
UK & Ireland
USA
Oz & NZ
Canada
Elsewhere

If you would like to become a Mystery Worshipper, start here.
1075: St Mary the Virgin, Bourne Street, London
Read this report | Other comments
10 May 2005

Considering Phyllis Stein's theological differences (I'm not sure why these should not be "objective") this is a kind and generous report and we are grateful for the interest of S of F.

I should like to help on the matter of the opening words, so as not to mystify readers with the famous extravagances of Bourne Street. During Eastertide the Officiant begins Evensong with the Versicles and Responses from the Book of Common Prayer: "O Lord, open thou our lips..."

There were indeed rather fewer of us present at this service than there might have been, since we had held the Annual Parochial Church Meeting at lunchtime. The late lunch may have also contributed to the resonance of several voices. Not that this stopped most from retiring to the warm and friendly local as we normally do on Sunday evenings.

Sorry to have been drawn away at the end: how many Mystery Worshippers end up at the "parish pump", I wonder...

Finally, we are in the process of updating our service sheets and have tried hard with Evensong & Benediction: it is a bit confusing for those not used to it but we feel the sheets are pretty clear at present and contain all except the extempore prayers during Benediction, which often follow a litany pattern with a simple response: "Lord, hear us: Lord, graciously hear us," etc.

Regards

Fr Alasdair Coles



We rely on voluntary donations to stay online. If you're a regular visitor to Ship of Fools, please consider supporting us.



Easter 2010

From Yunnan in China to Louisville in Kentucky, we report on Easter services, 2010. Read here.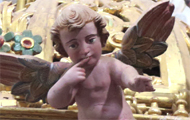 The Mystery Pilgrim

One of our most seasoned reporters makes the Camino pilgrimage to Santiago de Compostela in Spain. Read here.