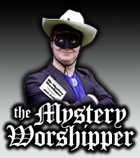 See our archive of reports
Famous/infamous
UK & Ireland
USA
Oz & NZ
Canada
Elsewhere

If you would like to become a Mystery Worshipper, start here.
1073: St James, Piccadilly, London

Read this report | Other comments

26 October 2014

I was hoping that I wouldn't share Ambrosia's experience while at St James Piccadilly in London, but unfortunately I did.

Coming from a background that would have made that particular church a natural home for me, I found the fellowship and experience of Sunday worship very lonely and distant.

I too was offered no welcome, However, before the service started, the whole congregation was asked to introduce themselves to the people sitting around them. I thought this was a positive start, but sadly it turned out to be of no substance afterwards.

Also included was the unique twister-blessing and the (disorganised) gathering around the altar for the eucharist. Luckily I was spared the fourteen notices and had to settle for just four.

On the other hand, I found the preacher, the Revd Lindsay Meader, rather good.

After the service I hung around for a while and even attempted to start some conversations, but found myself alone amongst a gathering of unfriendly strangers. Eventually I, too, left.

The experience left me pretty disappointed given the church's progressive reputation. I don't think I'll be returning next week.

Dr Tony Ciao



We rely on voluntary donations to stay online. If you're a regular visitor to Ship of Fools, please consider supporting us.



Easter 2010

From Yunnan in China to Louisville in Kentucky, we report on Easter services, 2010. Read here.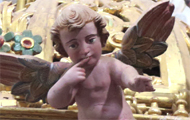 The Mystery Pilgrim

One of our most seasoned reporters makes the Camino pilgrimage to Santiago de Compostela in Spain. Read here.