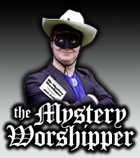 See our archive of reports
Famous/infamous
UK & Ireland
USA
Oz & NZ
Canada
Elsewhere

If you would like to become a Mystery Worshipper, start here.
1071: Southwark Cathedral, London
Read this report | Other comments
11 May 2005

I am a regular at Southwark Cathedral and, as my signature will imply, I know Mrs Francis-Mullins, who did a Bible reading that day, quite well – and her first name is not "Slyvia"!

On the whole, I thought Hollytree caught the atmosphere of Southwark well. I don't know why s/he chose such an uncomfortable bench seat, unless that was all that was left... almost all the seating is wooden chairs, with a few plastic chairs at the back and in the transepts. Admittedly, even they are not especially comfortable, but they are much better than the benches, and in any case are due to be replaced with something better this year.

The welcome s/he apparently received, or rather did not, from the congregation is something to think about. When we first went to Southwark seven years ago, we were struck by how open and welcoming it was, and I have heard many others say the same since then. But then we did take the initiative, introducing ourselves to people, so maybe those others who found the place so friendly did the same while someone who just hung around at the end, as a Mystery Worshipper will, looking interested but saying nothing, will be ignored.

It is, however, a very large congregation. I don't know the statistics, but I think Hollytree's figure of 300 was a considerable underestimate, and the congregation rotates; a lot of people don't go every Sunday. After all this time, I still only know a small proportion well, at least recognise more perhaps, but a newcomer doesn't stand out. I shall watch out more closely for anyone looking friendly but lost.

I have no idea who was playing the organ that day, but I rate them all very highly! All a matter of taste.

Peter Francis-Mullins



We rely on voluntary donations to stay online. If you're a regular visitor to Ship of Fools, please consider supporting us.



Easter 2010

From Yunnan in China to Louisville in Kentucky, we report on Easter services, 2010. Read here.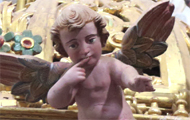 The Mystery Pilgrim

One of our most seasoned reporters makes the Camino pilgrimage to Santiago de Compostela in Spain. Read here.