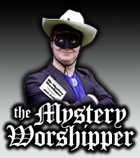 See our archive of reports
Famous/infamous
UK & Ireland
USA
Oz & NZ
Canada
Elsewhere

If you would like to become a Mystery Worshipper, start here.
1064: Universal Church of the Kingdom of God, Finsbury Park, London
Read this report | Other comments
28 June 2005

About UCKG in Finsbury Park, I think this is more a correction than a comment.

I've been attending this church for roughly a year. I was also present at the Sunday 10am service referred to in the report, and I remember it quite well. I'd just like to clarify a view which I don't think is correctly put in the report.

Coming from a Methodist background, I have always been wary of prosperity gospel churches. When I went to UCKG, I wanted to know where they stood in that regard. The long and short of it is that they are strongly against the belief that faith in God equals health and wealth, and that one is evidence of the other. Their belief is much more moderate, and I'd say more sensible and Bible-based, in that they believe spiritual wealth (salvation, the Holy Spirit, a godly character, etc.) is what we should really seek. Once that is under our belt, if we want to, God is there to help us achieve our earthly dreams too.

Plus, one of the reasons I stuck around was that they make it a point to teach you are a free person, and should always think for yourself and arrive at your own conclusions. The pastors really insist on you using your intelligence and that you don't do anything by pressure or compulsion. So things like tithing, getting baptised, dress code, lifestyle, etc. are really left up to you, though it's true they don't mince their words when they preach about it. But to me that's a bonus, 'cause it comes across as if they really believe in what they're preaching – which is really rare to find nowadays.

Cheers

Malcolm


22 November 2016

A year ago I visited this church on my way home from work. I'd returned to work too early after pneumonia and was still showing symptoms. Someone met me out in the street and asked me if I wanted prayer. They took me inside and I felt so much better after, like I'd somehow turned a corner in my health, which was confirmed by the next X-ray!

I certainly felt the Holy Spirit that Friday evening, so I wouldn't be put off attending if I lived in the area of Finsbury Park.

Linda Whichelow



We rely on voluntary donations to stay online. If you're a regular visitor to Ship of Fools, please consider supporting us.



Easter 2010

From Yunnan in China to Louisville in Kentucky, we report on Easter services, 2010. Read here.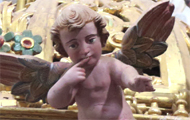 The Mystery Pilgrim

One of our most seasoned reporters makes the Camino pilgrimage to Santiago de Compostela in Spain. Read here.