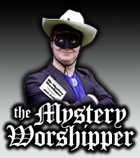 See our archive of reports
Famous/infamous
UK & Ireland
USA
Oz & NZ
Canada
Elsewhere

If you would like to become a Mystery Worshipper, start here.
1062: All Soul's Place, Langham Place, London
Read this report | Other comments
26 June 2005

About your report on All Souls, Langham Place, London: I can empathise with everything this reviewer says about lack of welcome, as that was my initial experience at All Souls in the early 1980s. As it happened, I went back there in 1988 and got a very good welcome, became a regular member and regretted not having done so earlier.

I think All Souls is aware of the fact that sheer size can cause individual welcoming to slip, so that in just about every service I can remember over the past 10 years or so, the (recently retired) rector, Richard Bewes, always said in the notices in the middle of the service: "If you're new here, we'd like to get to know you; please feel free to come to the welcome desk after the service". That, for me, would have sufficed to break the ice.

Realistically, whatever the merits of large, busy church services, social interaction tends to get diluted, so that the opportunity for meeting others and becoming involved, if that is what one wants, occurs mainly at other church events – which it is the responsibility of the church to draw attention to at the services.

Charles Turpin, Luxembourg


21 May 2005

Dear Editor

I am a regular at All Souls Church, Langham Place, London, and was at the same service attended by the Mystery Worshipper, and would like to add the following comments to the report on this church.

I am sorry to hear that the Mystery Worshipper did not receive a warm welcome. On most Sundays, there are usually four people, in addition to those who hand out the service sheets, who stand at the back of the church to greet visitors and to direct people to their seats. I do appreciate there's a long way to go on the part of the regular congregation in making every visitor feel welcome, with the added difficulty that it is such a big church. I pray and hope that what the Mystery Worshipper said is a wake-up call for the regular members of the church that we need to work on being a more welcoming church!

As a regular, I do think there is a good proportion of older people among the congregation. However, it is probably more noticeable at the 9.30am service as they seem to get up earlier than the students and those younger people without children!

I can also testify that the appointment of the Pope and the Catholic Church have been prayed for on previous Sundays, as were prayers for Britain said on consecutive Sundays leading up to the election, as well as afterwards.

Finally, I echo the comments of the Mystery Worshipper about our marvellous conductor. He's not only a great musician, but a great worship leader, and really makes a difference to the atmosphere of the Sunday services!

Mystery Commenter



We rely on voluntary donations to stay online. If you're a regular visitor to Ship of Fools, please consider supporting us.



Easter 2010

From Yunnan in China to Louisville in Kentucky, we report on Easter services, 2010. Read here.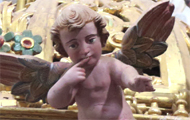 The Mystery Pilgrim

One of our most seasoned reporters makes the Camino pilgrimage to Santiago de Compostela in Spain. Read here.