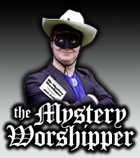 See our archive of reports
Famous/infamous
UK & Ireland
USA
Oz & NZ
Canada
Elsewhere

If you would like to become a Mystery Worshipper, start here.
1057: The Drive Methodist, Ilford, London
Read this report | Other comments
11 May 2005

I want to talk about the report of the Drive Methodist Church in Ilford, Essex. I am 16 and have been going there nearly every Sunday since I was born. I was confirmed about a year ago.

I think you were a bit harsh towards the service part, and very criticising of Rev. Poole. He is a good preacher and talker, and can interact extremely well with all ages. Of course the talk to the children was a bit patronising to you, it wasn't supposed to be for the adults. It's got to be slightly patronising for the children to keep focused and understand what Rev. Poole was talking about. You can't talk to mainly primary school children in complicated ways about the Da Vinci Code, can you?

So what if the hymns were a little old? Different churches have different styles of music. I went to a church in Ongar, Essex, once, and there they used very modern songs, with guitars and drums. To be honest, I didn't like it. Being a rising organist myself, I prefer the traditional hymns sung out of the books we use, that you can play with an organ, and make it sound triumphant on special occasions. Plus, our organist is extremely good and makes any hymn sound great.

Finally, you didn't actually say anything about the new building work there, other than "the congregation seemed proud of it". Of course we would, we've been talking about it for five years, from just a small dream to years of preparation, resulting in a project that cost nearly half a million to complete. Didn't you think that the new buildings made it look a lot nicer and warm and welcoming?

If you wanted an animated service with a preacher that is happy to be there, you should have come when our own minister was preaching. As a Christian yourself, you should know not to judge a whole church by just one service.

Jeremy Foster



We rely on voluntary donations to stay online. If you're a regular visitor to Ship of Fools, please consider supporting us.



Easter 2010

From Yunnan in China to Louisville in Kentucky, we report on Easter services, 2010. Read here.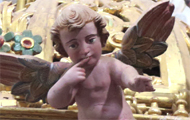 The Mystery Pilgrim

One of our most seasoned reporters makes the Camino pilgrimage to Santiago de Compostela in Spain. Read here.